Welcome to The Writing Garden in San Francisco
Now Enrolling Summer 2015 Workshops For Young Writers


NEW!
For 9-13 years old:
Monday June 29th— Friday July 3rd
5 afternoons
1:00 p.m.-4:00 p.m.
Registration link through Brown Paper Tickets:
http://creativewriting9to13.brownpapertickets.com/
The Writing Garden & Inkspell Writers present:
2015 Summer Creative Writing Workshop            
Each young writer will receive a fun & inspiring creative writing activity book & a copy of the students' creative chapbook
Join us for 5 fun days of creative activities:
• Writing prompts, word games & literary treasure hunts
•We'll explore writing craft techniques such as character development, plot twists, tension building, dialogue, evocative settings and fantasy worlds
•Revision & feedback
•Culminating project: a sampling of each student's polished piece(s) will be published in a creative chapbook
In a fun and supportive environment, these small workshops are designed to help students build confidence in writing, while exploring & developing their creative voices.
$385. per student, or "bring-a-friend rate" at $350 each.
To reserve your space, enroll through Brown Paper Tickets:
June 29-July 3:    For 9-13 year olds: http://creativewriting9to13.brownpapertickets.com/

Workshops will be held at The Writing Garden/The Preschool in the Mission near 24th and Valencia. Workshops are facilitated by the inspiring, engaging and experienced teaching team of Lynn E. Hazen & Sharry Wright.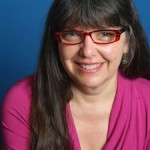 Lynn E. Hazen is the author of the young adult novel Shifty, which was named on VOYA's Top Shelf Fiction list and was a Smithsonian Notable. Her other books include Mermaid Mary Margaret, Cinder Rabbit, The Amazing Trail of Seymour Snail, and Buzz Bumble to the Rescue. She received an MFA in Writing for Children and Young Adults from Vermont College.  She teaches writing at Stanford Continuing Studies & The Writing Garden.  www.LynnHazen.com
Sharry Wright of Inkspell Writers earned her MFA from Vermont College of Fine Arts in their Writing For Children and Young Adults program. Sharry co-taught Inkspell Writers' workshops for young writers at Fort Mason in 2013 and 2014. She lives in San Francisco where she writes, works as a book reviewer and as a moderator for Mother-Daughter book clubs. You can find her at www.sharrywright.com and at Kissing The Earth www.smithwright.blogspot.com
Any questions? Please contact Lynn and Sharry at: sharry.wright@gmail.com
We look forward to hearing from you.
Tell your friends and register soon–enrollment is limited! 
Taught by Lynn E. Hazen & Sharry Wright
———————————  
Email Lynn[at]TheWritingGarden.com if you have any questions or issues reserving a space for these workshops.